With the summer months heating up, it's not too late to enjoy a getaway with your dog. In fact, many popular human destinations are actually places that both people and their dog can enjoy together. From a simple visit to a local park to an extravagant spa retreat, doggy daycations are a great excuse to spend some time with your furry friend.
Some locations are a natural fit for people who want to explore new places with their dogs. But pets present problems for some destinations, such as historic museums or traditional cruise ships. While some doors still remain closed to our pets, there are tons of day-long getaways that offer the complete human-dog package.
Whether you seek an outdoor adventure or are just looking to unwind, there are plenty of great daycations for both you and your dog to experience!
We've compiled our favorite dog-friendly destinations for you and Fido to explore:
(Oh, and make sure to order a GG Bailey pet car mat to help protect your seats while you are traveling with your four legged friend.)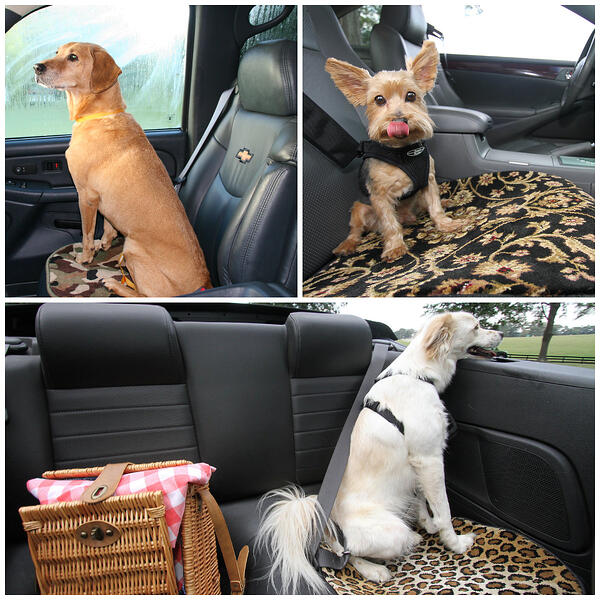 The Barkery Bistro
Greenville, SC

Nothing is cuter than a happy dog, right? Treat your dog to the ultimate shopping experience and you'll both be smiling for weeks! The Barkery Bistro is an upscale pet boutique offering gourmet treats, toys, accessories, and fun for everyone. Not only that, but they host community events, such as Yappy Hours, to support local rescue shelters in helping to create awareness and facilitate adoptions.
thebarkerybistro.com
Montrose Dog Beach
Chicago, IL
Whether it's to beat the summer heat or listen to the sound of the waves, the Montrose Dog Beach offers an escape from the hussle and bussle of city life. After a full day of sunbathing and digging holes in the sand, cool off with your dog in the waters of Montrose Beach. Dogs are allowed to swim and roam leash-free along the beach.
mondog.org
Lehigh Gorge Scenic Railway
Jim Thorpe, PA
Chew-Chewww! Enjoy a 16-mile train ride with your dog through the scenic Lehigh Gorge State Park.Your dog is bound to love the breeze as you travel along several historic mainlines in a diesel-powered train from the 1920s. Post-ride enjoy hiking, biking and water adventures also available at the Lehigh Gorge Scenic Railway.
lgsry.com
Spoiled Dog Winery
Langley, WA
The popularity of dog-friendly tasting rooms is growing as wineries begin tapping into the trend of offering more than just tastings, but addressing consumer lifestyles. Located in the unique maritime climate of Whidbey Island, Spoiled Dog Winery welcomes dogs and their wine-loving owners. They offer award-winning wines for tasting and purchase, as well as fun activities for dog-lovers and their pups.
Cosmo Dog Park
Gilbert, AZ
Equipped with a bunch of tail-wagging amenities, including a swimming area with a dock for jumping, fire hydrant water fountains, and climbing obstacles for exercise, Cosmo Dog Park is perfect for a day outside together. To escape the sun, there are four covered patios with benches and tables.
gilbertaz.gov/parks/popups/cosmo-park
Doggywood at Dollywood
Pigeon Forge, TN

Take a ride on one of Dollywood's thrilling roller coasters or daring water excursions while your furry friend plays at Doggywood, Dollywood's very own kennel. You'll both experience the park in environments that are designed specifically for adventure and fun. Space is limited so call in advance for reservations on the day you plan to visit the park. The kennel even has a few individual cottages for dogs needing a little extra privacy!
Lazy Dog Kayak
Key West, FL

For the ultimate water lover, Lazy Dog has it all. Kayaking, paddleboarding, and even PaddleYoga classes are just several of the activities that both you and your pup can experience together. Paddle along the channel with Fido by your side- there's even a sandbar where dogs can play on their own "private island."
American Kennel Club Museum of the Dog
St. Louis, MO

Explore this 14,000 square foot facility featuring the world's finest collection of dog-devoted art with than 700 original paintings, watercolors, drawings, figurines, sculptures, and other works. The museum provides doggy treats and water so dogs are encouraged to visit as well. Be sure to visit the museum's gift shop, which includes unique items like jeweled dog dishes and tapestry pillows.
The Little Nell Hotel
Aspen, CO
Prepare to be pampered at The Little Nell, a five-star luxury hotel with ski-in, ski-out access to historic Aspen Mountain. If you and your dog can dream it, The Little Nell can provide it. Dogs can snack on gourmet treats on their very own Dog menu, relax on cozy beds, brush up on proper pet Petiquette, or even utilize the Puppy Jet Lag Kit if your pup is feeling extra sleepy. Humans can take advantage of the hotel's amenities including skiing, fly fishing, a world-class spa, and many more.

Protect your pup and your car, and buy GG Bailey's luxurious Pet Car Mats today!