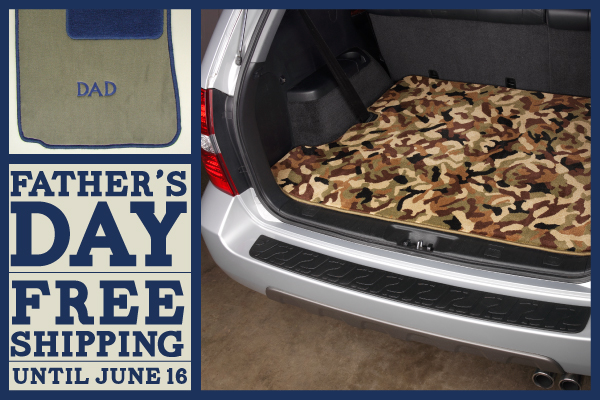 We know you are excited about celebrating dad! This Father's Day, shop with us and get FREE ground shipping on all orders through June 16! Father's Day is on June 16 this year, so order by Tuesday, June 11, to get your personalized car mats on time!
And don't forget, not only did our parent company Racemark International invent the carpet floor mat, they make the mats for the world's finest luxury brands. So when we say that GG Bailey's custom auto mats, personalized car mats, and home mats really are the best in the world, we mean it.
Just last last week alone we saw customers buy Father's Day luxury gifts that included Maserati Quattroporte mats, Porsche 911 mats and Lexus GX mats. But our custom auto mats are an upgrade for any vehicle, as other customers bought personalized gifts for Father's Day that included Lincoln Town Car mats, Ford Explorer mats, Jeep Liberty mats, and Toyota Corolla mats.
We have personalized mats and custom mats for every make and model out there, but if you feel like something is missing, just contact us and we will make sure to meet your needs.
Here are a few ideas to help you in your search for a unique Father's Day gift:
Start shopping now to take advantage of this week's FREE ground shipping! For more ideas, download our free GG Bailey Gift Catalog.
To receive your order by Father's Day, June 16
FREE Ground Shipping - Order by 3 p.m. EST Tuesday, June 11
Two-Day Shipping - Order by 3 p.m. EST Wednesday, June 12
Overnight Shipping - Order by 3 p.m. EST Thursday, June 14
(Free ground shipping and delivery dates only good for the contiguous U.S.)