We have award-winning car mats.
GG Bailey's parent company, Racemark International, was honored recently with the prestigious Mitsubishi Diamond Quality Supplier Award, which honors OEM suppliers that not only provide a great product but also excel in product development, performance, support, marketing, and customer satisfaction.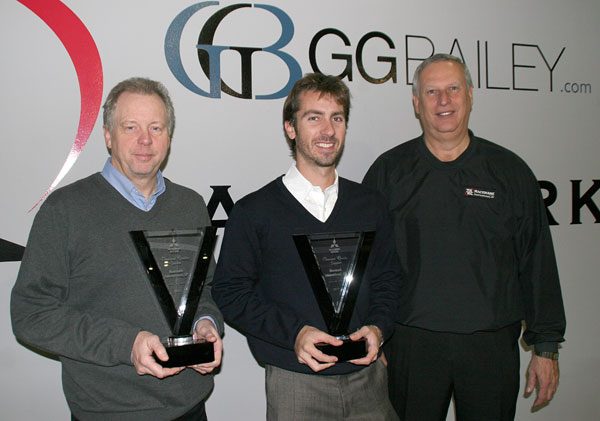 From left to right:
Soren Sorenson, National Sales Manager; Cannon Bailey, Director of Sales; Jim Brendel, Racemark Vice President.
Cannon Bailey, who leads sales for Racemark, traveled to Las Vegas to accept the award at the SEMA show, a trade show produced by the Specialty Equipment Market Association. While there, Bailey was treated to a celebratory dinner at the acclaimed Emeril's New Orleans Fish House with other Diamond Quality Suppliers and representatives from Mitsubishi.

Racemark International makes floor mats for the auto industry's premier brands: Acura, Audi, Bentley, BMW, Honda, Jaguar, Mercedes-Benz, Mini, Mitsubishi, Porsche, Saab, and Volkswagen. For over 15 years, Mitsubishi has chosen Racemark as the brand's floor mat provider.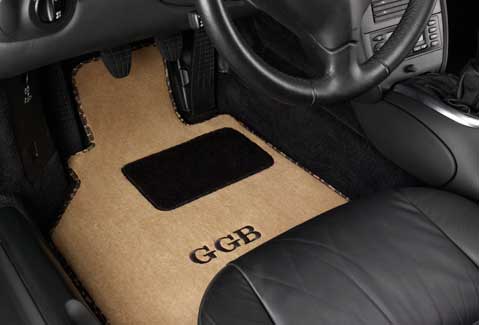 GG Bailey is an aftermarket, direct-to-consumer division of Racemark, but GG Bailey mats have the very same "diamond quality" as Racemark mats. They're even made in the same factory in Calhoun, Georgia.

But unlike floor mats made for vehicle manufacturers, GG Bailey mats can be designed and customized by the customer. Want a monogram on your mat? Embroidered racing flags? Want your new car mats to match your nail polish? There are hundreds of combinations of colors, embroidery, and edging choices possible. Start designing your car mats today by visiting our online store. Through January 16, 2013, you will receive free ground shipping on any car mat order!