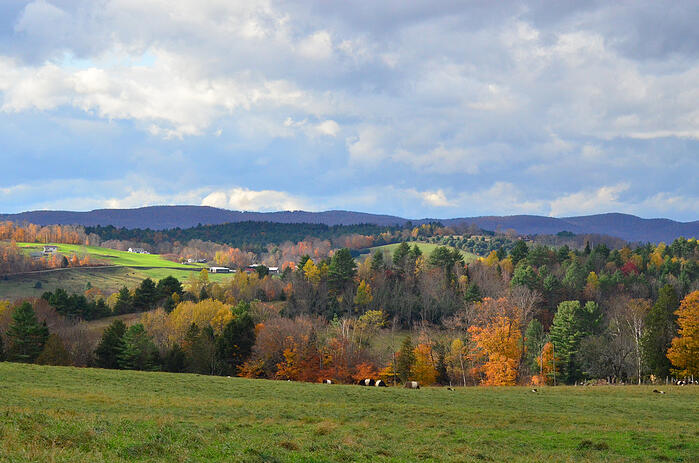 If you love driving, there's no better season for a scenic drive than autumn.
From pale yellow, to burnt orange, to fiery red, to deep purple, the turning of the leaves is one of nature's most beautiful sights. But the gorgeous autumnal colors won't last forever. October is the perfect time of year for long drives through the country, fall festivals, and time spent outdoors enjoying the crisp weather.
We've compiled a list of the best places in the U.S. for seeing the fall foliage, an activity some call "leaf peeping." Included in our list are tips for the best time of year to see fall colors in each region, byways with the best views, and events and attractions that give you an extra reason to make the drive.
Tennessee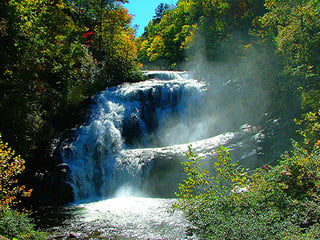 Late October is an ideal time for leaf peeping in the Tennesee and North Carolina mountains. Almost anywhere you travel in the lower Appalachian region will be beatiful this time of year, but for truly breathtaking views, try traveling the Cherohala Skyway. Forty-three miles through east Tennessee and part of North Carolina, the Cherohala Skyway will show you fall colors in endless combinations. You'll travel through the Nantahala National Forest, the Cherokee National Forest, and you can even take a detour to see Bald River Falls. (It's worth it.)

Reason to Go:
The Jack Daniels World Championship Invitational Barbecue Festival
October 27, 2012 in Lynchburg, TN
North Carolina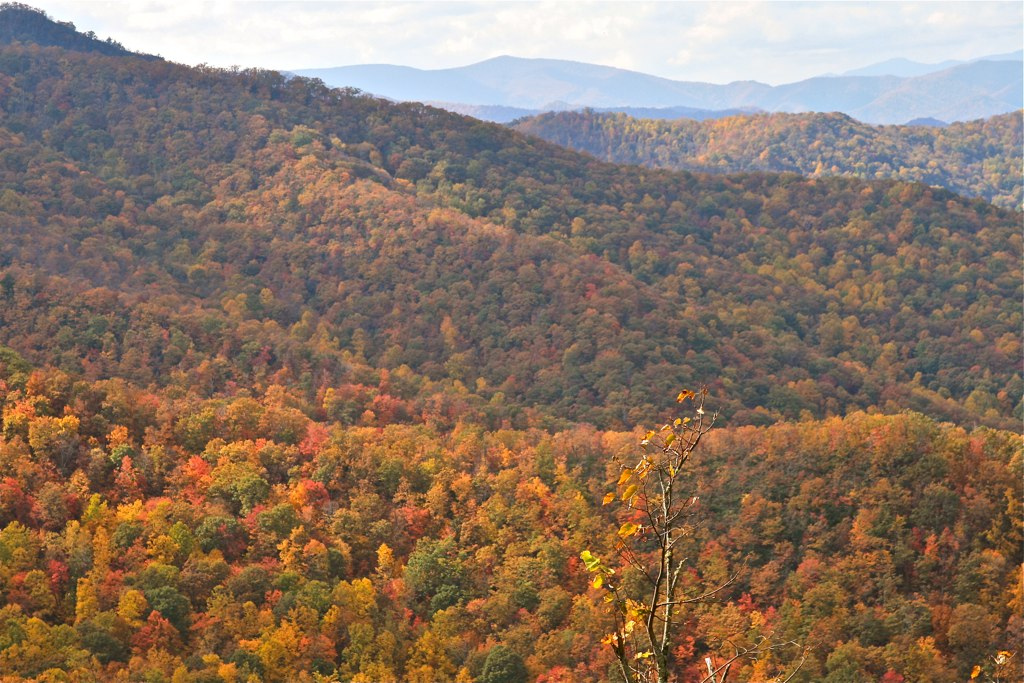 Fall color stands out even more when it's set against the backdrop of the Blue Ridge Mountains. For leaf peeping in North Carolina, we recommend Asheville. The city itself is a worthy destination; Asheville is filled with art galleries, craft shops, restaurants, and entertainment venues of all kinds. Plus, there are many drives and hikes that will showcase the best fall leaves North Carolina offers. Make sure to check out fall color report; it's updated weekly. Any scenic drive that takes you along the Blue Ridge Parkway won't lead you astray.
Reason to Go
If the person riding shotgun is more interested in art, this scenic drive lets you discover mountain crafts while exploring the beautiful scenery.
Colorado
Colorado doesn't have the variety of color that Vermont offers, but a neverending skyline of golden aspen trees is no less spectacular. Plan your trip carefully; the trees will fade quickly.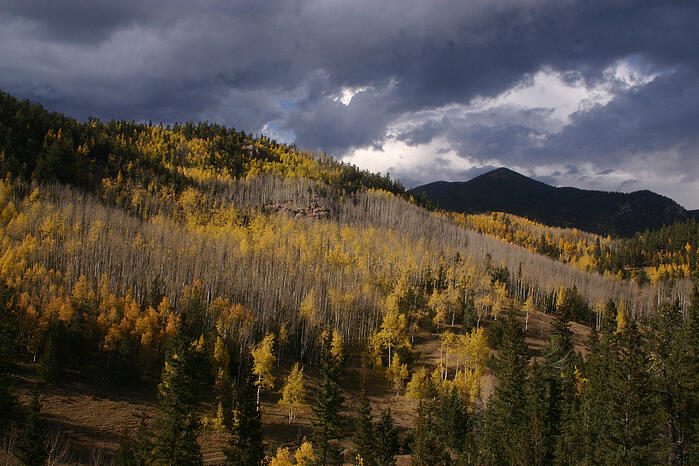 Early October aspen trees turning to gold along Gold Camp Road in Colorado.
Reason to Go:
The Gateway Auto Museum in Gateway, Colorado.
In addition to a large collection of classic cars and automotive historical artifacts, the Gateway Auto Museum is located near the Colorado Scenic and Historic Byway 141.
Leaf Peeping Quick Tips
The brightly colored foliage of fall is fleeting. You can travel many places in the U.S. (okay, not Florida) to see the turning leaves, but the results may differ year to year. We've given you a few great travel suggestions, but here are some quick tips and resources that will help guide you to the right place at the right time.
Check foliage reports in your area for current updates on the best places for leaf peeping.
Plan ahead. This article from About.com has a handy guide that tells you the best time to go leaf peeping for each state.
Don't follow the crowds. Leaf peeping can be serious business, especially in the Northeast U.S. Talk to the locals to find the road less traveled, or simply make your trip during the middle of the week.
Keep a camera handy. You'll get the best photos at sunrise or sunset, the golden hours.
Make sure your car is in good shape. A lot of scenic byways may take your cell phone out of range, so don't get stuck with car trouble.
Travel in style. If you're in for a long drive, a comfy car can make all the difference. Check out GG Bailey's luxury car mats in this autumnal plaid theme.
What are your favorite places for enjoying the season?