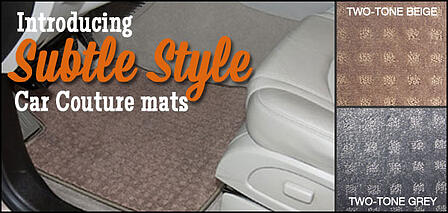 After months of planning, designing and testing, the newest additions to our Car Couture™ line are now available on GGBailey.com! These new two-tone Subtle Style mats will add style, comfort, and protection to your car.
The Inspiration
We strive to create high-quality products that are luxurious, durable, and stylish. So for inspiration, we looked at many interior designs of Europe's premiere luxury car brands. Only at GGBailey.com will you find mats of this design -- and this quality.
How It's Made
All other designs in our Car Couture™ line are made of beautiful woven carpets, but our newest car mats are made of tufted carpet. Tufted carpet is made when hundreds of needles thread high-quality yarn through the carpet backing to create many loops (or tufts) of yarn. During this process, some of the loops are cut in a checkered pattern, creating the unique textured, two-toned appearance of the Subtle Style mats.
The cut-and-loop pattern is specially crafted by GG Bailey in two popular and versatile colors: beige and grey. Since we pack 33 ounces of high-quality yarn into each square yard of carpet, your floor mats will both look and feel great.
All GG Bailey car mats are crafted individually to custom-fit your car's year, make, and model.


Why You'll Love It
Subtle Style mats are available for a low introductory price -- starting at just $120!
All Car Couture™ carpets are also available as cargo mats, home mats, and pet mats.
We make luxury car mats, but each mat still meets factory standards of quality.
With beige and grey color options, you can get a mat that matches your car and hides dirt.
Car Couture™ mats have anti-slip Open Cell Foam backing that keeps the mat from moving around your car.
Every car mat from GG Bailey comes with a retention system to keep your mat in place and your car safe.
Car mats protect the interior of your car from wear and tear, preserving the value of your car.
With GG Bailey, you get the perfect fit every time.
What style of mat do you prefer? Find out what design is best for you.