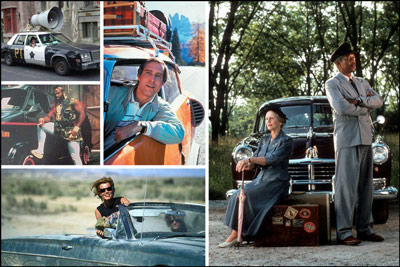 We had so much fun designing GG Bailey custom car mats for Batman and Speed Racer, we decided to do it again -- this time for real cars driven by fictional characters from TV and film.
Custom car mats are a luxurious and fun way to customize your car to match your personal style. You can even add your name, initials, or a 10-character personal message for a one-of-a-kind car mat.
---
Jake and Elwood's 1974 Dodge Monaco Bluesmobile from The Blues Brothers (1980)
Carpet: Charcoal
Edging: Taupe Serging
Heel pad: Blue Circle
Embroidered Message: "Jake" or "Elwood," of course.
Fun Fact: At the time of its release, The Blues Brothers held the record for most cars destroyed for a film. It held this title until it was outdone by its own sequel.
---
Clark Griswold's Wagon Queen Family Truckster from National Lampoon's Vacation movies (1983)
Carpet: Camel
Edging: Hunter Green Serging
Heel pad: Hunter Green Circle (Unfortunately, wood paneling is not an option).
Embroidered Message: Each of the four car mats will be embroidered with the Griswold family names: Clark, Ellen, Russ, and Audrey. The cargo mat will say "Aunt Edna."
Accessories: Sheepskin Seat Cover for maximum comfort on long trips
---
The A-Team(1983-1987)
Carpet: Black
Edging: Reflective Black LA Binding
Heel pad: Red Rectangle
Embroidered Message: "PityDaFool," in reference to Mr. T's popular catchphrase.
---
Daisy Werthan's 1949 Hudson Commodore from Driving Miss Daisy (1989)
Carpet: Pink
Edging: Cream Serging
Heel pad: Cream Rectangle
Embroidered Message: Although she doesn't drive, Miss Daisy chose the classic monogrammed look with the script typeface.
---
Thelma & Louise's 1966 Ford Thunderbird convertible from Thelma & Louise (1991)
Carpet: Navy
Edging: Light Blue Serging
Heel pad: Light Blue Rectangle
Embroidered Message: "PartOfMe" and "PartOfYou" -- a reference to the film's theme song by Glenn Frey of The Eagles.
---
Now you can create your own designs. Just select your car's make, model and year, and click on "Design Your Own."
Unsure of which carpet color matches your vehicle? Get a free swatch kit now with all of our carpet color choices.
---
Related Reading
Anatomy of a GG Bailey Car Mat. Discover all your options for designing your own GG Bailey car mats.
Star Cars: Where are they now? From Mr. Bean's Mini to Greased Lightning, the Telegraph looks at the fate of famous cars.