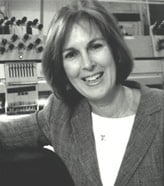 Who is the GG Bailey of GGBailey.com? None other than our fearless leader Ginger Bailey -- the woman responsible for your luxury car mat. Not only is Ginger the founder of GGBailey.com, she's also the CEO of our parent company, Racemark International.
We're proud and excited to announce that Ginger and Racemark have been honored with BMW's Minority Supplier Award for May!
Read Ginger's supplier spotlight on the BMW website.
Ginger and BMW go way back. Since 1976, Racemark International and BMW North America have partnered to make what would become BMW's largest selling accessory -- the custom logo luxury carpet floor mat.
Though the automotive industry was once considered a man's world, Ginger Bailey has helped Racemark International grow from a small company in 1972 to the leader in the car floor mat industry with more than 200 employees. That success is due in part to BMW, which encouraged innovation and created a community of BMW suppliers.
"Some of our best friendships were formed at BMW's Supplier Symposiums. I also had the distinction of being the only female at the business sessions in the early days," Ginger said.
Racemark and BMW share a passion for innovative engineering and polished aesthetics, resulting in a luxury mat that matches the car's interior, provides safety, and enhances the BMW brand.
Mats from GGBailey.com are produced at the same factory and with the same high-quality materials as Racemark mats. Ready to get yours? Browse our selection of customized luxury carpet car mats.