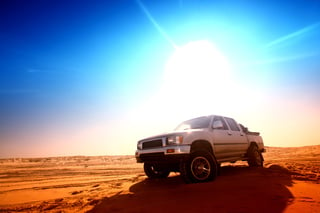 Trucks might be infamous for their iconic roles in country tunes and culture, but if you're a truck owner, then you know how handy that truck bed is.
Whether you're at a college tailgate or moving, trucks are the universal automobile; both functional and fun.
Like luxury sedan owners, truck owners take pride in their vehicles designing them with lift kits, mufflers and custom paint jobs to create their own custom edition truck; they take pride in personalizing their ride to make it as unique as they are.
While there are plenty of ways to personalize the exterior of your truck, how do truck owners make their truck's interior just as customized as its exterior? You could splurge on car seat covers or steering wheel covers; or, you could design durable custom-fit car mats.
Customize Your Car Mats in 4 Simple Steps
Design your own car mat using quality materials to match your truck's interior with its exterior. GGBAILEY offers 4 unique areas of customization.
The Carpet
Trucks are made for durability, so why wouldn't your car mats be just as strong; if your truck can handle a bit of dirt, then your car mats should too. GGBAILEY carpets have a European velour look with built-in resistance to soil and stains.
You can choose between 10 different colors, from pink and camel to chocolate and cream, or design your car mats with one of our 11 Luxury Car Mat designs.
The Edging
The car mat's edging is the border around the edge of the car mats. There are two types of edging - serging and binding. When a car mat's edge is serged, it means that the yarn is stitched into the edge of the car mat. Binding is just a smooth fabric edge. There are 21 serging and 20 binding edgings, including reflective and ribbon designs, to choose from.
The Heelpad
For extra durability, and to keep the integrity of your car mat, you can select a heelpad. This is a way of extending the life of your car mat by providing extra thick carpet that goes under the heel of the driver's side mat. You can choose between 19 different colors and a circle or rectangle shape.
The Embroidery
You can select from over 15 block or script colors for a slogan or a custom word up to 10 characters on each front mat. Or, you can keep it classic with your initials or monogram. If you want to support a sports team or cause, you can add a logo to your car mat.
Your Truck, Your Design
You can keep your truck's interior looking spotless with GGBAILEY car mats because the fabric of the carpet absorbs moisture and hides outdoor debris including sludge, mud and dirt. You can also match your truck's interior with its exterior in 4 simple steps including your carpet color, edging, heelpad and embroidery.
Start designing your truck's custom fit car mats today.
GGBAILEY Carpet Car Mats are for All Weather All the Time
Proudly MADE IN AMERICA for over 40 years and currently providing luxury in millions of vehicles around the world.